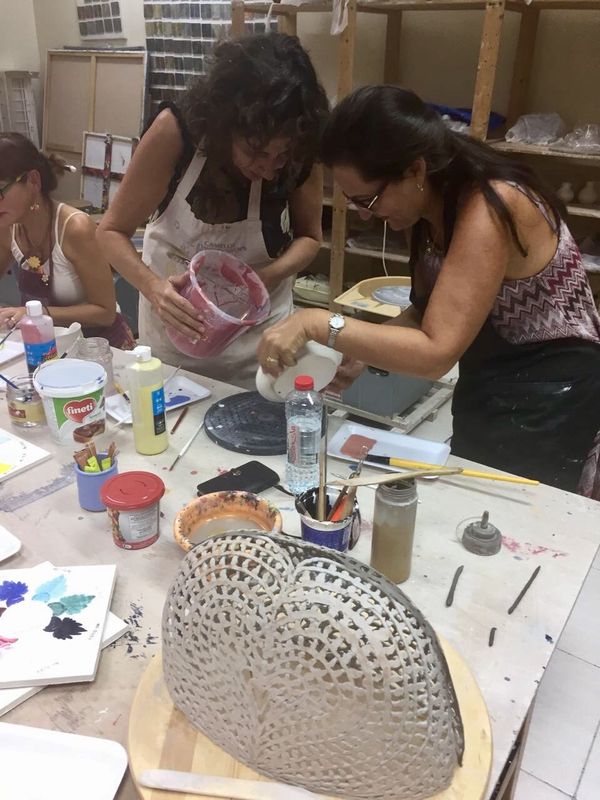 CURRICULUM
Roberta Barlati lives between Ravenna and Dubai, where she taught ceramic decoration at the Dubai International Art Center and at the Yadawei Ceramic Studio and where she exhibits her sculptures at the Alserkal Cultural Foundation.
She began in 1983 her activity, as a ceramist in Ravenna, characterizing her production with majolica inspired by Byzantine mosaics and with the elaboration of a particular polychrome vine leave. (tralcio di vite romagnola)
She has created vases and abstract opera with the fusion of mosaic tiles (fusione di tessere di mosaico) on coloured ceramic glazes, abstract panels, high reliefs representing the typical lagoon's flora and fauna, representing the sea and the sandy dunes, in a continuous research and experimentation of different techniques and materials.
She has worked for private clients, shops, institutions and still teaches sculpting and ceramic decoration.
Currently, driven by the search for a symbolic and materic lightness, she works with the experimental method she has called "Lightness Technique" ("Lightness Technique"), with which she drips porcelain or other liquid clays that she prepares herself, into recycled cardboard molds that she shapes and assembles to create the opera she designed.
SELECTED EXHIBITIONS

2020 Matres -International Women's Ceramic Festival Experience.
2020 Buongiorno Ceramica Maggio2020 – extraordinary online edition.
2016-2020 Everlasting exhibition of the ceramic sculptures "The big heart of women"-Alserkal Cultural Foundation – Dubai – UAE ("The big Heart of women")
2018 54° International Ceramic Sculpture Symposium-Boleslawiec Poland.
Collective exhibit "Alice and the Others" – "Good morning Ceramic"-Royal Palace of Caserta, Italy.
2017 Art Dubai 2017-Collective exhibition "Sikka".
The 9 Hijri Exhibition 2017 – Dubai Mall – Dubai.
2016 Artist in Residence at Yadawei Ceramic Studio and Dubai International Art Centre – Dubai.
She makes the sculpture with falcon for the Alserkal Family.
2012 Recommended by the Jury "Women Moody Women" Exhibition/competition- "Arte Donna 8 marzo"- Castrocaroterme-Forli Cesena Italy
2009 Solo exhibition "Moons and Dunes" ("LUNE E DUNE") –Reliefs, paintings, ceramic and papier-mâché sculptures –Museo Natura- S. Alberto Ravenna –Italy
2008 The national television Rai3 Geo&Geo shows the processing of the work in ceramic reliefs "A.A.A.Duna".
2007 Collective exhibit at Limoges- Tulle- Gueret, France
2005 Collective exhibit "Ceramicamosaico" Ravenna-Italy
Collective exhibit "Mythos &Design"- Room of Mosaics – Ravenna-Italy
Collective exhibit "Music in the hands" – Old fish Market- Cervia – Ravenna-Italy
Solo exhibition "A sea of dunes"- Hotel Bellevue Milano Marittima- Italy
2000 She makes 100 celebratory majolica plates for Schola Piscatorum Casa Matha, Ravenna.
1996 Solo Exhibition "Terr…e" Area Transatlantico – Stazione di Bologna
1993 Collective exhibit 4a Rassegna arti figurative – Museo del Senio – Alfonsine (Ra)
1985 Collective exhibit -"Italian young artist in Ulm (Germany).